We participated in an excellent FOSE Spring meetup with top notch leaders in the information technology community. This guest post from Govents recaps the insights and discussions on the importance of emerging technology, social media and government events. The original posting of this blog can be found here.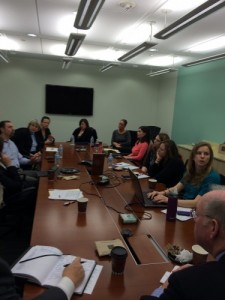 1105 Media, organizers of the FOSE and GovSec Conferences & Expos, hosted a FOSE 2014 Blogger and Speaker Meet-up on Wednesday, March 19 at the 1105 Media office in Vienna, VA. In its 6th year, this invitation-only event was held specifically for government technology influencers, FOSE speakers and bloggers. Held as an open forum, roundtable discussion, attendees were given an opportunity to discuss key elements of the upcoming FOSE Conference. The conversation moved from government events and the obstacles that continue to challenge them, to the uprising of mobile and social media and how they are influencing the way government interacts with the public, cybersecurity and more.
Attendees at the meet-up included influencers; Jack Gates, Open Source Leadership blog; Dick Davies, SalesLab; Tom Suder, President at MobileGov; Ghadi Ben-Yehuda,  Director of Innovation and Social Media for IBM Center for The Business of Government; Tammi Marcoullie, Program Manager for Challenge.gov – GSA; Lovisa Williams, Sr. Policy Advisor at U.S. Office of Management & Budget; Guy Timberlake, Co-Founder and Chief Visionary Officer of The American Small Business Coalition, LLC;and Penelope Parker, Vice Chair of the Woman in Technology Communications Committee. Representatives were also present from CSFI, Tuvel Communications, LLC, 1105 Media and GovEvents.
During the introductions, special recognition was given to Tammi Marcoullie and Challenge.gov for winning the Harvard Innovations in American Government Award, and to Lovisa Williams for being named as one of DC's Top 50 Women in Tech by FedScoop. Having recently returned from the South by Southwest event in Austin, Ghadi Ben-Yehuda was excited to share strategies used at SXSW to engage attendees through various technologies. Most notably was an app from Samsung. With the click of a button, a Samsung employee would bring you a new battery for your dying Samsung device within a one mile radius of the Samsung booth!
This quickly led the group into discussions about social media and how its integration into both our personal and professional lives affects us on a daily basis. Activities that were once considered private are now commonly shared with friends, acquaintances and even strangers, across multiple social media channels. This 'information sharing' presents challenges to our government in numerous ways, including:
Setting guidelines for government employees on what can and cannot be shared via social media;
Government monitoring vs. moderation of open forum communications on government sites;
The ability of government agencies to use the information freely available over social media to monitor activities so they can better prepare for situations. A great example of this is the CDC tracking flu outbreaks across the US so they can provide more antibiotics where they are needed most.
Following this discussion, GovEvents was asked to share what trends they are seeing with government events. Program Manager, Aletia Martin of GovEvents was excited to report that more events than ever before are currently posted on GovEvents and new events are added every day. About half of these events are webcasts, which suggests that organizers are implementing strategies to combat the ongoing travel restrictions and budget limitations. While technology, big data and security events remain popular on the site, events covering government mobility, procurement and acquisitions are becoming more frequent. GovEvents is also seeing more organizers using social media for event promotions and have noticed an increase in apps being created and used at events. These apps allow attendees to remain engaged and foster networking above and beyond what we have seen in years past. The group agreed that attracting a large government audience is still a challenge, but if organizers plan properly, these challenges can turn into new opportunities for engagement.
Be sure to stop by the GovEvents booth at FOSE 2014, May 13-15 in DC!
GovEvents is the premier web portal for all Government & Military events worldwide.