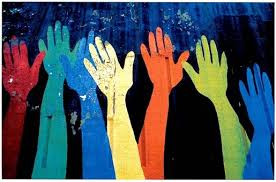 Last year we rung in the New Year with  "One Click Resolutions". 2014 brings with it a clean slate, a fresh list of resolutions we intend to fulfill. Why not incorporate technology and create some social change this year?
If you like millions of others are planning on working out, losing weight and generally being healthier, than I have an app for you. CharityMiles allows users to earn money for charity when you walk, run, or bike. Bikers earn 10¢ a mile and walkers and runners earn 25¢ a mile. Ending hunger is an issue that is very important to me, so I downloaded this free app and selected Feeding America as my charity of choice. The Capital Area Food Bank is also a great non-profit to support. Tuvel had the privilege of partnering with them in 2013 to help make a difference in the lives of those suffering from hunger.
Maybe working out is not on your resolution radar. For some it may be carving out time to volunteer. Whether you have five minutes, a few hours or weeks to dedicate, Create the Good is a great resource that connects you with volunteer opportunities to share your life experiences, skills and passions in your community. Idealist.org and VolunteerMatch also offer a variety of volunteer opportunities.
For others the resolution may be expanding horizons, more time with friends and family or trying new foods. Whatever it is, there is new geo-location app to try that has "do- gooder" twist, Check-in for Good. This app connects your social networking with fundraising and enables users to support causes. A simple check-in to your favorite places such as coffee shops, restaurants, sporting events and more generates a micro- donation to a great cause.
And for those who are still on quest to figure out your resolutions, why not use a search engine for change? Bene is an online platform and community dedicated to transforming a $50+ billion search industry into pure good. You can also try Dailygood. Use this site for everyday activities like searching the web, playing online games, shopping, dining out and more and raise money for your favorite charity.
If you are interested in discovering more about social initiatives and technology check out The Tool Box. This is a new platform for tools aiding social change. Here you can find the latest articles and apps that are making a difference.
What social change apps or technology are you planning on using this year?